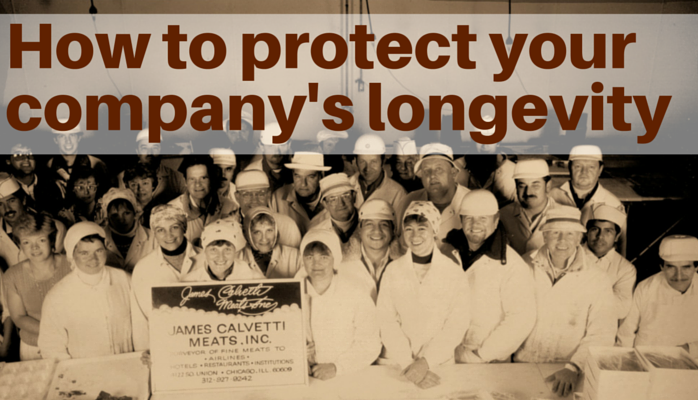 This post was first published by Jamie Calvetti on LinkedIn

Protect It!

My father founded James Calvetti Meats Inc. in 1974. I started (part time) in May of that year. Many of you saw the notification about my work anniversary and many of you commented or just plain "liked" it. Thanks for that! As I think back, all of our early success and much of our middle years' success is attributable to Jim's hard work and the many lessons he taught me. I still think about and learn from those early lessons every day. All of that said, here is a business maxim that every business owner can learn from:
Don't get stuck in the past or even the current ways of doing things! If you want to see more anniversaries (and bigger and better ones at that), you must invest in your company's longevity.
This is how I've done it.
Plan and Execute With Your Guests in Mind
A party is usually meant to celebrate a single person or entity, but don't you want your guests taken care of? Throw good parties (or, in this analogy, run your business well) and they'll keep coming back. They'll talk it up and look forward to coming (or working with you) every year. You make your party (company) the place to be by making sure everyone has a good time.
What's the best part about your partners believing in what you're doing? They bring their friends next time. If the new guests play nice and fit in, the more the merrier! Remember to build business relationships with strategic partners and embrace new opportunities like a good host.
By listening to what our partners and their end users want, James Calvetti Meats has seen business grow. The Calvetti/IFC metaphorical party has recently included new guests such as a headline-making sous vide partner, a national specialty foods grocery chain and an ever-growing circle of food service, transportation and hospitality friends. They're all lining up for the party because we've expanded our offerings and knowledge base to accommodate the next big thing: sous vide. We may be over-the-hill, but boy can we throw a party!
The Menu: Bring Your Best to the Table
Like I discussed before, it's one thing to just jump on a trend and another to actually do it right. If there's one way to let attendees down, it's to overpromise and underdeliver. Open bar? It'd better not be only for the first hour. Entertainment? Better not be your family friend's little brother's garage cover band. Business services and products? It'd better be exactly what you say it is in your marketing and sales pitches.
Here are the highlights of our updated menu to celebrate this year:
We created and now offer a commercial line of real sous vide food service products and meals. None of that fake stuff ("Sous Vide Style" Ha!) that's actually steam/boiled
We've created and now offer a product line of Sustainably Sourced Real Sous Vide foods and meals for Retail distribution, including sous vide fruits and vegetables.
New equipment (more on that later)
We offer products formulated for the transportation industry, including:
Ready to Eat, Seared, Grill Marked and Sous Vide Filet Mignon
Ready to Eat, Seared and Sous Vide Wild Salmon Filets.
Ready to Eat, Seared and Sous Vide Lamb Loin Medallions
And, always a crowd favorite, our ready to cook Prosciutto Wrapped Boneless Stuffed Pork Loin and Asiago Cheese and Asparagus Stuffed Chicken Breasts vac packed in Mylar TEPC film that can go right in the oven from your freezer.
Here's to 41 years and many more.