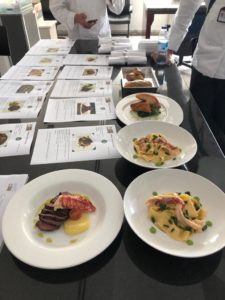 Recently, we've started working on some exciting projects at JC Meats, Inc. and Calvetti Culinary Creations. We've partnered with local businesses and large corporations in roles from R&D to full-service food manufacturing. These opportunities challenge us in the best ways and make us more creative. Every day, we're finding new ways to bring culinary innovation to the forefront – and we couldn't be more thrilled.
Using innovation to create perfect flavors
For one client, we've solved a big problem in their industry. This client is in the smokehouse business, but there are no volume smokehouse providers. With all the pollution in Chicago, you can't have smokehouses anymore unless you're grandfathered in. (Back in the 1960s, regulation was enacted to help prevent air pollution, and the smoky, soot-covered city has gotten a lot cleaner.)
So, if we couldn't spend hours smoking these meats, what could we do? We took our client's problem and created an innovative solution. We came up with ways to mimic smoked products: using a searing machine that chars perfectly and utilizing research and development techniques to create those ultimate, smoky flavors.  The result is just a fantastic product that tastes just like it was made in the smokehouse, right down to the smoke ring on the inside.
How food manufacturing brings Grandma's recipe to scale
It all comes back to what our customers have come to expect of us: Taking our clients' concepts and commercializing them. No matter the request, we get it done – often using the traditional French method of sous vide cooking. While sous vide is getting more popular as a tech trend for home use, we know that we can use the method to cook food products to perfection every time.
Our approach allows for culinary innovation while using food manufacturing to bring those recipes to scale. You may come to us when you're starting with 5,000 pounds of chicken, pork, or beef a month, and we can turn that into 50,000 pounds a month for you. You may want to recreate a favorite recipe of your grandmother's… we can do that too!
And of course, our chefs are helping our food manufacturing goals
I've said it before, and it's still true: I couldn't do much without the support of my team. The Calvetti Meats team is known for our collaborative process. In the creation of new food products and product lines, we collaborate to open up new food possibilities of taste, texture, color and – most importantly – food safety.
So above all, I know we couldn't do any of this without the chefs. The culinary skills that they bring to the table are top-notch, and to watch the way they think and how they bring these concepts to scale is fascinating. And bringing high-quality ideas and culinary knowledge to the food manufacturing process is invaluable. It's one thing to make a meal for a dinner party or a catering event. But to take that same concept and to commercialize it for large-scale use is a true testament to the skills that these chefs possess.
Food manufacturing in the year to come: Where we go from here
In the year to come, we're likely going to see a lot of pre-prepared foods and automation in the industry as a result of food manufacturing and culinary innovation, which is more of a function of labor than anything.
We also have to consider that customers' needs and wants are changing as technology gets further and further advanced and awareness grows bigger and bigger. Everyone wants good, quality, sustainably-sourced food, but they don't want to leave their homes to get it. In 2019, my team and I will be developing ways to solve these problems, partnering with other companies to make sure their products taste great, even when it's delivered after X number of miles.
I'm looking forward to 2019 being our biggest year yet. We're venturing out into new areas, because growth is always exciting and necessary. And to make it even better, we're having a blast while doing it – who says work can't be fun?
It's so gratifying while at the same time humbling, to see the role that we get to play in someone's food manufacturing concept. We get to bring their ideas to life. Whether we're partnering with an airline or a small or large foodservice business to bring their product to a larger scale, we're going to continue to innovate in the food industry. And through it all, we're going to keep providing superior food products that everyone can enjoy.
A version of this post first appeared on LinkedIn.