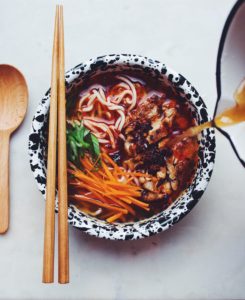 At Calvetti Culinary Creations, we're always innovating and trying new ideas, new dishes, and new flavors. As we round the corner into 2019, we're excited for the 2019 food trends that will take the food and beverage industry by storm in the coming year. Some are comforting, some are just plain weird, but we're ready to embrace the innovation and see what happens.
Here are a few trends to look forward to:
Food "bowls" are growing in popularity.
In the mood for Ramen soup, Hawaiian Poke, or a Buddha bowl? These are really taking off in the US market as consumers increasingly want to choose their own pairings. We're thrilled to be able to offer proteins to pair, like pork or chicken chashu, salmon or tuna sous vide, or Korean beef or chicken.
Healthier trends and lifestyles on the rise.
Powder concentrates like acai, green tea, and turmeric as well as mushroom blends such as meshima, reishi, chaga, cordyceps and more are being used more frequently. These concentrates and blends are very colorful and enhance food flavor. But as an added bonus, they have great properties that will boost body and mind!
Consumers have been health-conscious for some time now, but they might be more particular when it comes to what's in their food. People are trying to avoid nitrites, sulfites, and other additives which may cause allergic reactions. Diners are also requesting less sugar in their food which increases the risks of cancer, type 2 diabetes, and other diseases as well as having a negative impact on metabolism and weight loss.
Proteins, trendy and… not.
These cuts of beef are popular this year and will only continue in the next. Look for petite tenders, sirloin bavette, culotte roast, petite sirloin, and tri-tip.
As weird as it sounds, insects are also becoming a major source of protein since they are low in fat and abundant. By 2024, the edible insects market is expected to surpass $710 million. (For now, we'll stick to traditional meats.)
Here's to a great new year! What 2019 food trends are you looking forward to?